Eletrolar Show 2023: Success for Innovation and Excellence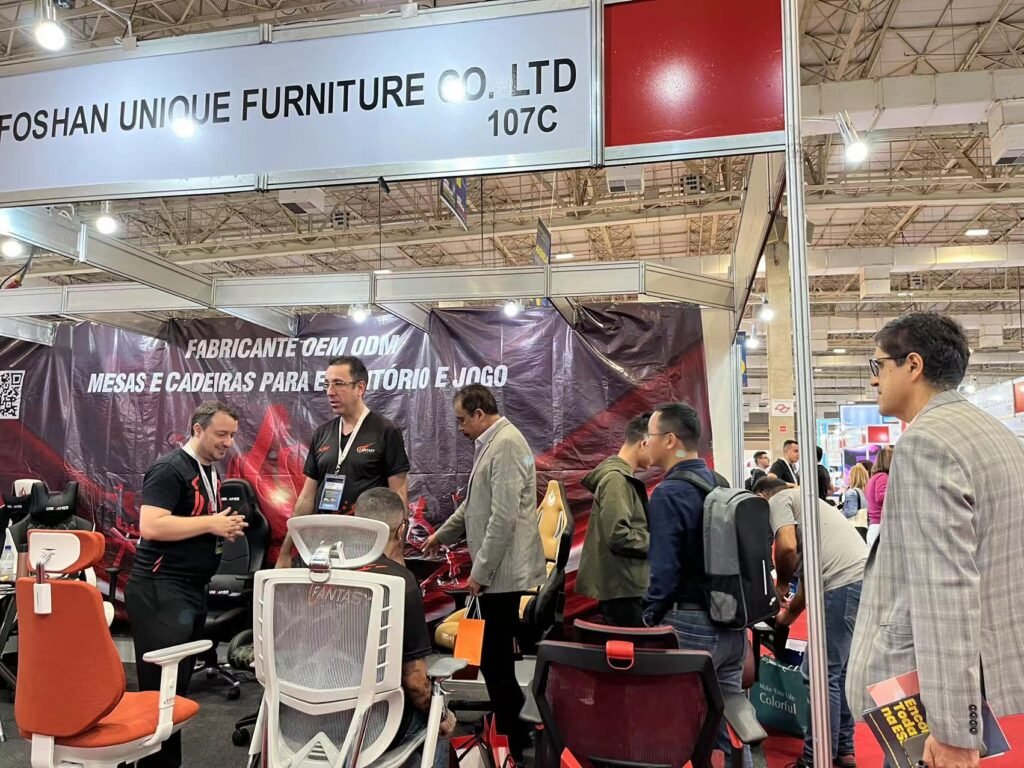 We are delighted to share the exciting highlights of our participation in the Eletrolar Show 2023 (107C), the largest consumer goods fair in South America, held in the vibrant city of São Paulo, Brazil.
This prestigious event brought together professionals from various industries, and we were overwhelmed by the positive feedback received from a diverse group of visitors, who explored our stand. As passionate creators and developers of office and gaming equipment products, we are thrilled to have had the opportunity to showcase our latest innovations and connect with industry leaders and enthusiasts.
Awe-Inspiring Product Line: At the forefront of our exhibit were the ergonomic Ultra U and Ultra X office chairs, which captivated attendees with their exceptional build quality, premium finishes, and unparalleled comfort. These chairs, designed with careful attention to ergonomics, provide optimal support and promote a healthy posture for extended periods of sitting. However, the showstopper among our offerings was undoubtedly the world's first smart office chair, a testament to our commitment to pushing boundaries and introducing cutting-edge technology into the workplace.
Gaming enthusiasts were also drawn to our booth, expressing keen interest in our range of ergonomic gaming chairs and gaming desks. These products seamlessly blend comfort, style, and functionality, ensuring an immersive gaming experience and minimizing the risk of fatigue and discomfort during intense gameplay sessions. The positive reception and overwhelming demand for our gaming equipment at the Eletrolar Show further validated our dedication to enhancing the gaming experience for enthusiasts worldwide.
Throughout the event, our passionate team worked tirelessly to engage with visitors, sharing our unwavering enthusiasm for innovation and excellence in the field of office and gaming equipment. Whether it was discussing the intricate details of our product designs, explaining the science behind ergonomic benefits, or showcasing the latest technological advancements, we left no stone unturned in demonstrating our commitment to delivering top-notch products that prioritize user comfort and productivity.
We extend our heartfelt gratitude to all the visitors who graced our booth, for their valuable attention and the infectious energy they brought to the Eletrolar Show. The overwhelming response we received has further fueled our determination to continue pushing boundaries and revolutionizing the industry with our innovative solutions.
As we bid farewell to this year's Eletrolar Show, we eagerly anticipate returning next year with even more groundbreaking products and experiences to offer. Our commitment to excellence remains unwavering, and we look forward to further cementing our position as industry leaders in creating and developing cutting-edge office and gaming equipment.
Conclusion: The Eletrolar Show 2023 provided us with an incredible platform to showcase our passion for innovation and excellence in the world of office and gaming equipment. The positive feedback received from industry professionals, opinion leaders, and the press affirmed the quality and desirability of our products. We are truly grateful for the opportunity to connect with visitors, share our expertise, and contribute to shaping the future of work and gaming.
With the spirit of innovation as our driving force, we pledge to continue raising the bar, introducing exciting advancements, and delivering exceptional products that redefine comfort and productivity. Until we meet again at the Eletrolar Show next year, stay tuned for more groundbreaking developments from our team as we strive to empower individuals and enhance their experiences in the digital age.