World First AI Smart Office Chair manufacturer
The first Smart AI office chair
How did it all start?
The project of creating the first smart office chair with artificial intelligence (AI) features was launched in 2019 in cooperation with different players for exclusivity launch in the Chinese market.
Foshan Unique Furniture (UNIGAMER) was incorporated in a Shanghai registered-based company, called Backrobo.
After countless ideas, challenges, trials and design tests BACKROBO were able to reach a satisfactory result to bring the product to market and finalize the patenting registration of the technologies (ZL202022513256.6 and ZL 2020 2 2513193.4), SGS certification (SHHL2208036909FT_CN), TUV (No.192848) and BIFMA to ensure the quality and safety of this office furniture products.
An award for all the people who were heavily involved in the creation of this product and our strategic responsibilities as the official OEM manufacturer for these smart office chairs with innovative and pioneering technology worldwide.
What was the first Smart AI office chair product to be developed for consumer sales?
After research, there really is no product like it. We are probably the first world manufacturer to develop for consumer sales an ergonomic smart AI office chair. The first product was the BC03P, in China, also known as the C1 model.
It was a sales success and we quickly started the development of the second generation of smart office chairs, with the BC03Q model. The success was such that many people made export sales (which would not be officialised) to other global markets mainly in South East Asia of this product.
The result of this increased demand led to a change in the previous global sales strategy in the face of requests from international customers. It was decided to start translating the elements into other languages and verifying the legal warranties issues, to be able to prepare the sale in the global market in a more smooth and safe way for customers and partners.
What about 2023?
Currently, in 2023, the new model won the 2023 CES Innovation Awards.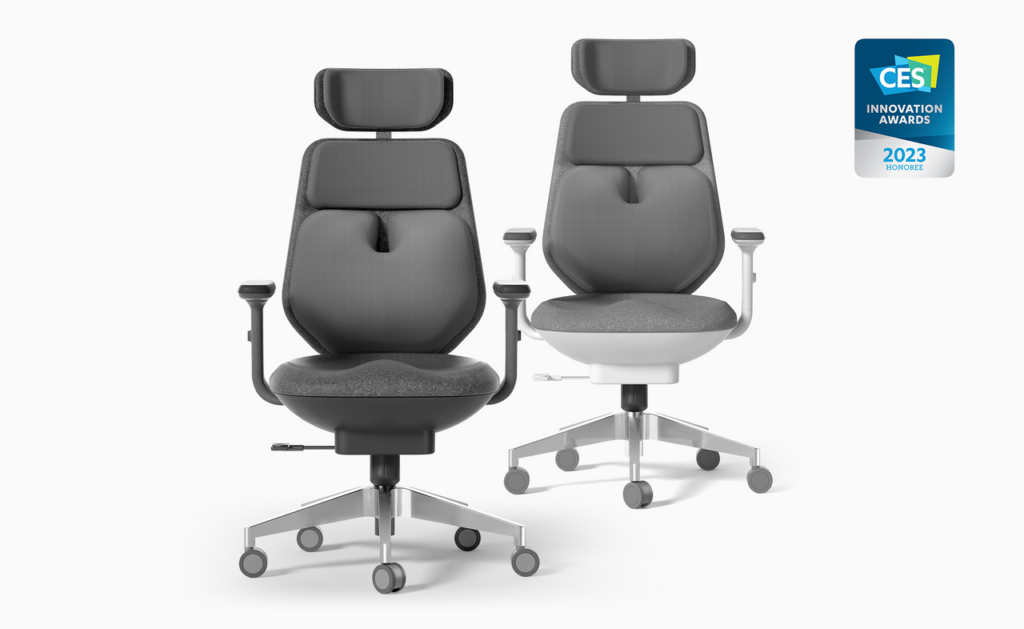 Foshan Unique Furniture has started some international fairs with the presentation of the new version of the smart office chair (C1X) with artificial intelligence, and in fact, we noticed the curiosity of customers from the gaming and furniture area.
This new model has full OEM/ODM customization capability. As office furniture manufacturers, we can adapt all these technologies to any new metal or plastic chair mould for your own chair project.

The new designs can enhance workplace ergonomics, productivity, and user experience, or adapt slight changes to the same models we have already studied and developed, and we can adjust to small changes to requests from professional furniture customers.
In China, our partner Xiaomi (which has exclusivity for China), recently decided to run a sales campaign for the new smart office chair model (C1X), the third generation of intelligent chairs we are currently creating.
This new campaign just kickstarted and already gathered more than 1 Million Yuan in sales in just two campaign weeks.
In this new generation model (C1X), we have updated the battery area as the user community requested. Now users can have more than one battery and interchange to don't wait 4 hours for fast charging. The battery usually lasts for one week but also depends on each user's usage.
How does UNIGAMER negotiate international sales?
We usually work in the same way as the traditional sales for OEM / ODM products, office chairs or office desk furniture.
In each country, we can negotiate exclusive contracts, with different brand partners or agents, or other manufacturers that are interested in working in cooperation for this type of smart office chair product.
We can help other manufacturers to develop their smart chair OEM/ODM products and allow them to use our patented technology. If any professional customer, brand or manufacturer is interested in implementing the first smart chair in their country or region, they can contact us.
What makes an office chair "smart"?
There are some key areas to make an office chair smart. We, at Foshan Unique Furniture, are working in our labs in the field of the Internet of Things (IoT), the Cloud storage of information and artificial intelligence.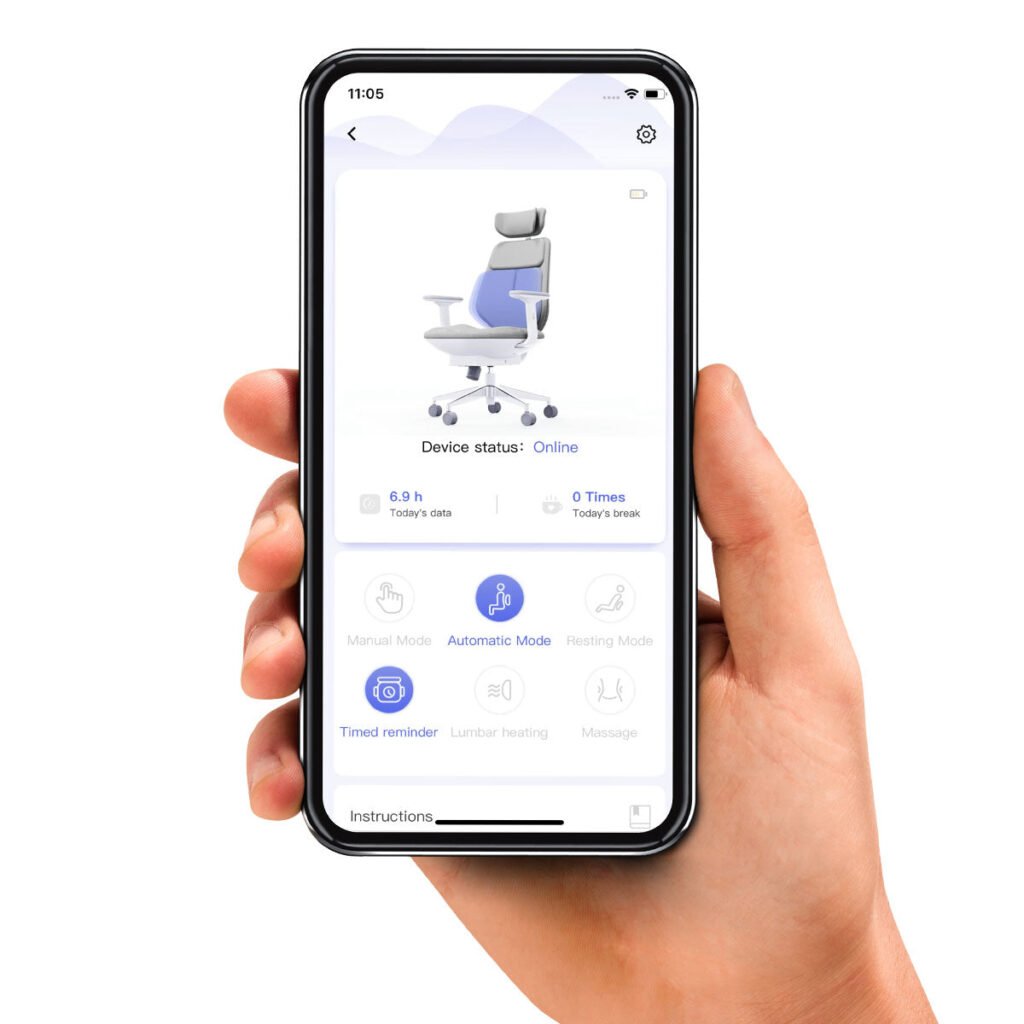 The Smart AI Office Chair can be (or not) connected to a system with its own software application or third-party software application that works together as an integrated ecosystem solution. This means that the user's information can be (or not) connected with a Cloud data storage system which will enable the office chair to be intelligently adjusted to his user and send and receive data communications. This is in order to reduce the product consumption energy, to know the user's sedentary habits and to improve the user's health based on the information received. Each user can decide to record and monitor his data and know more about his own behaviours to allow a better adaptive seating solution through the chair sensors.
It is in this vast field that we are working scientifically, with our R&F and more different agents. We are now more capable to enable the provision of better health habits for each person. To be able to help implement a daily rhythm using smart office furniture, with less stress, better ergonomics to the body that can respect international or national health standards organisations and some national guidelines provided by human resources offices, that aim to guide workers and provide better well-being to each person.
The smart office chair should have its own software application and is compatible with Android or iOS systems, to work through a computer, smartphone or tablet.
And how far does UNIGAMER want to go?
In China there is an age-old cultural custom of working in the community, respecting the cooperative partnerships between all partners.
We remain open to working together with more agents, at any stage of the evolution process of this project, be it for the improvement of the product, be it for the building materials, be it for sales, be it for design. The important thing is that we can have a product that meets the needs of the market and makes the users happy.
What are the main Smart Office Chair functions?
Intelligent Posture Monitoring: The Smart AI office chair we are manufacturing can continuously monitors the user's posture in real-time through the software. It's equipped with advanced sensors and AI algorithms and distributed on the chair. It can detect and analyze the alignment of the spine, neck, and limbs, providing immediate feedback and suggestions for improving posture and reducing the risk of musculoskeletal issues. It will fix the bad posture using our patented Airly system, which will increase or decrease the adjustment according to the user's body position.
Adaptive Seating Adjustments: The chair employs AI-driven mechanisms to automatically adjust its seat height, backrest angle, lumbar support, and armrest based on the user's body measurements and seating preferences. This personalized adaptability ensures optimal comfort and support for individuals of varying sizes and shapes.
Machine Learning Capabilities: Over time, the Smart AI office chair leverages machine learning algorithms to understand individual user patterns and preferences on the software. By continuously analyzing user data, including sitting habits, movements, and comfort levels, the chair can learn and adapt its settings to provide a personalized and optimized seating experience tailored to each user's unique requirements.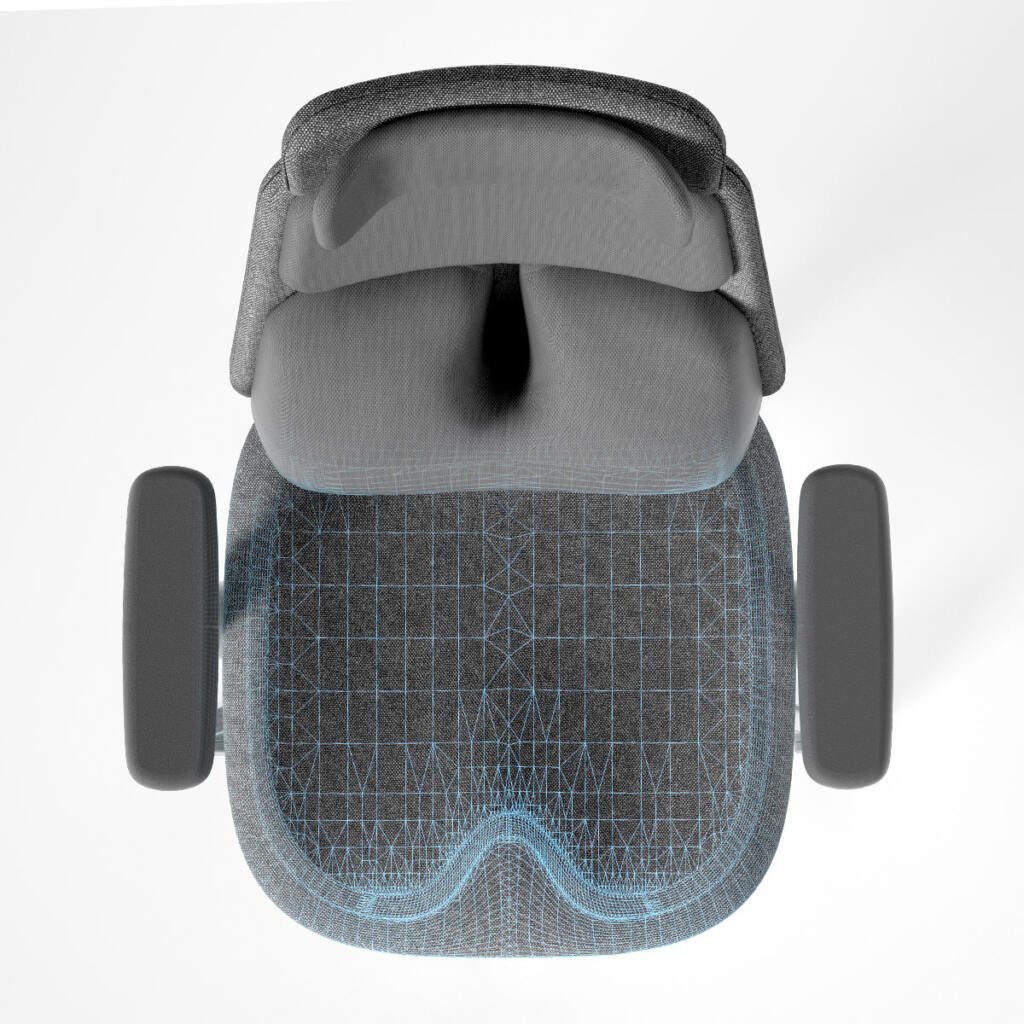 Health and Wellness Features: Smart AI office chairs often incorporate additional health-oriented features. These may include built-in activity trackers that remind users to take breaks or engage in movement, integrated heating or cooling systems for temperature regulation, and massage functions to relieve tension and promote relaxation during extended periods of sitting.
Connectivity and Integration: Smart AI office chairs can be connected to other smart devices (ecosystem), enabling seamless integration within the workplace ecosystem, facilitating synchronized workflow, and creating a more efficient and interconnected work or home environment.
Voice Control (under development): The future will bring some new features to the smart AI office chair, it can be equipped with voice recognition technology (chair microphone), allowing users to control chair functions using voice commands. For example, users can adjust settings like the lumbar heating, change the sedentary reminder, activate massage features or request posture recommendations, etc.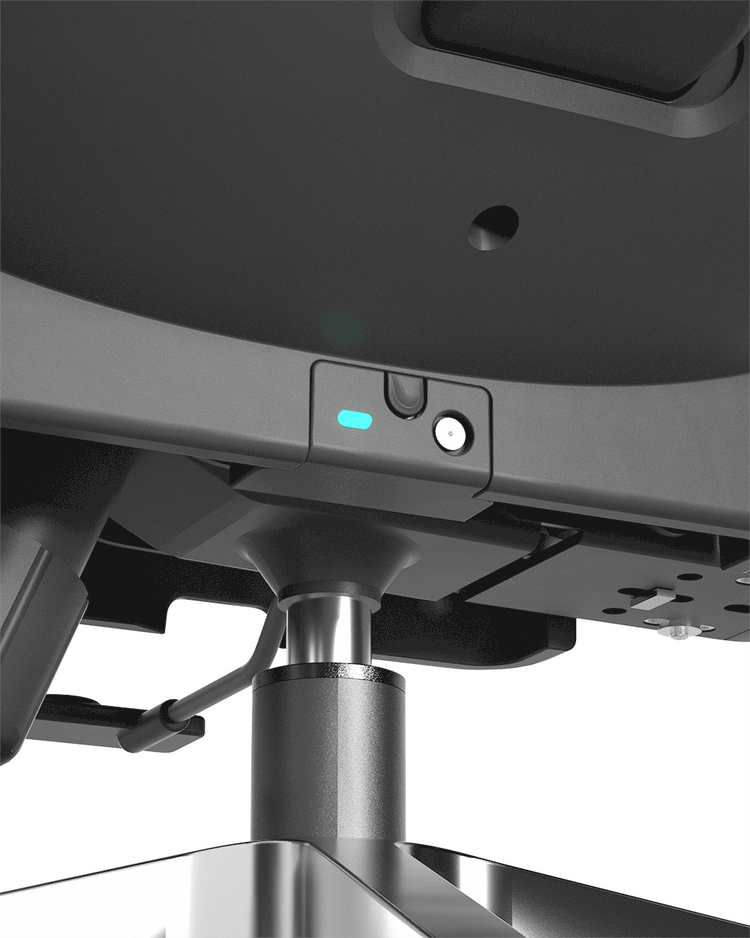 To get more information please contact us.