Simply Ergo Lumbar Support Office Chair U-BS0002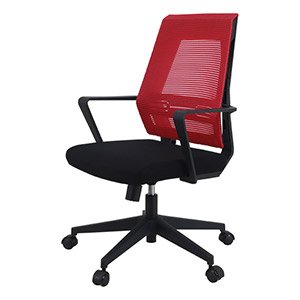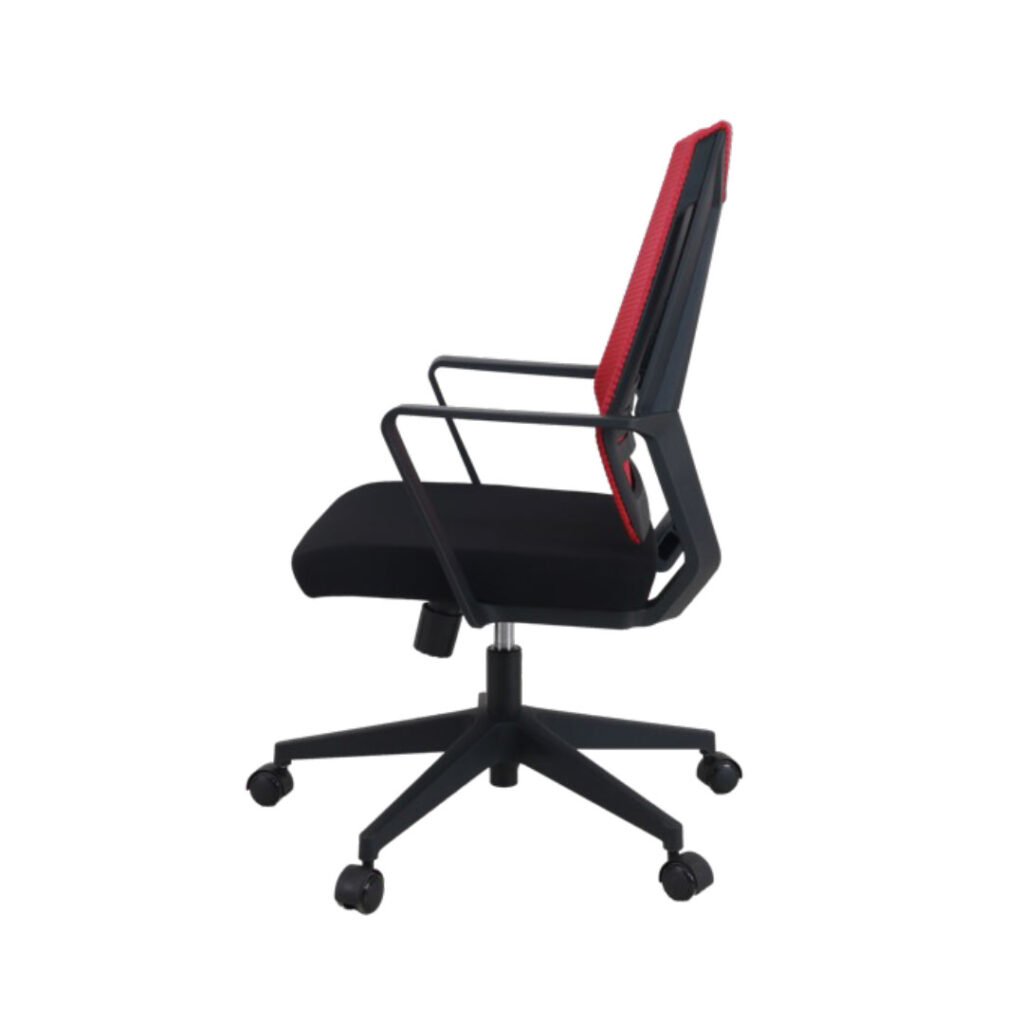 Support Chair PA6 GF30 Armrest Fully Adjustable Office Chair
Black Red High Back Mesh Ergo Smooth Office Chair With Class 4 Gas Lift And Nylon Base
The chairs are designed with a human-oriented ergonomic construction, providing comfortable support to help you keep a relaxed posture for a long time working. Easier to disperse pressure and relieve muscle fatigue.
Product Information:
Color (Rubber/Fabric): Red/Black, indicating the color combination of the chair.
Product Size: 580mm (Depth) x 630mm (Width) x 1160-1080mm (Height), specifying the chair's dimensions.
Weight: Net weight is 12.2 kilograms, and gross weight is 15.2 kilograms, detailing the weight of the chair.
Package Size: 730mm (Length) x 270mm (Width) x 630mm (Height), specifying the dimensions of the packaging.
Packaging Structure: Each chair is packaged individually in a vertical box.
Materials:
Fabric Material: The chair is constructed with Mesh TW51/Mesh H-017A fabric material.
Cotton Used: The chair uses 55 dense and 50 hard shaping cotton, which might be related to the cushioning.
Back Frame: The back frame is made of PA6+GF30 (Polyamide 6 with 30% Glass Fiber) or PP+GF30, which are materials known for their durability and strength.
Lumbar Pillow: The chair includes a lumbar pillow for additional support.
Seat Shell: The seat shell is made of glued solid wood panel.
Armrest: The armrest is made of PA6+GF30.
Mechanism (Chassis): It features a single handle control type synchronized free mechanism for adjusting the chair's position.
Pneumatic Rod: The chair uses a 100/30 pneumatic rod with a 90mm stroke (4-stage pneumatic rod).
Legs: The chair has 340 high-strength five-jaw PA legs.
Chair Wheel: It comes with 1650 nylon chair wheels.
Dimensions:
Seat Height (off the Ground): Adjustable from 450mm to 540mm.
Seat Width: 510mm.
Seat Depth: 450mm.
Seat Thickness: 70mm.
Armrest Height (off the Ground): Adjustable from 645mm to 735mm.
Armrest Surface Length: 330mm.
Armrest Width: 58mm.
Armrest Surface Thickness: 10mm.
Back Height (from Seat): Adjustable from 710mm to 745mm.
Back Width: 480mm.
Back Thickness: 40mm.
Seat to Armrest Height (in front of Seat): 200mm.
Armrest Inner Width: 510mm.
Armrest Outer Width: 630mm.
Tilt Angle: The chair's tilt angle is adjustable from 108 degrees to 125 degrees.
Overall Height (Above Ground): Adjustable from 1160mm to 1285mm.
Overall Width: 630mm.
Overall Depth: 580mm.
As manufacturer, Foshan Unique Furniture offers a complete OEM ODM service solutions.
Quick and easy to install. This product was developed for home and office use, and it was tested to support you all day long. With durability, safety and sustainability.
Wipe clean with a mild soapy solution.
Wipe dry with a clean cloth.
TECHNICAL DATA FOR OEM ODM
| | |
| --- | --- |
| The Backrest | PA6+GF30 Outer Frame And PP+GF30 Inner Frame |
| Chair Cover Material | Mesh |
| The Foam Type | The Molded Foam |
| Density | 55/50 KG/M3 |
| Armrests | PA6+GF30 |
| Castor | Nylon |
| Mechanism Type |   Butterfly  |
| Base | 680MM PA6+GF40 Base |
| Tilt Lock | request information |
| Tilt Angle Lock | request information |
| Gas Spring | Class 4 Gas Lift |
| Adjustable Headrest | request information |
| Adjustable Lumbar Cushion | request information |
| Total Weight | 12.20 KG |
| Meets/Exceeds ANSI/BIFMA | Yes |
N/D  = "Not Defined";
Most of the options are customized and configurable.
You can configure and set it up in many ways, the values or descriptions will be different according to your requests