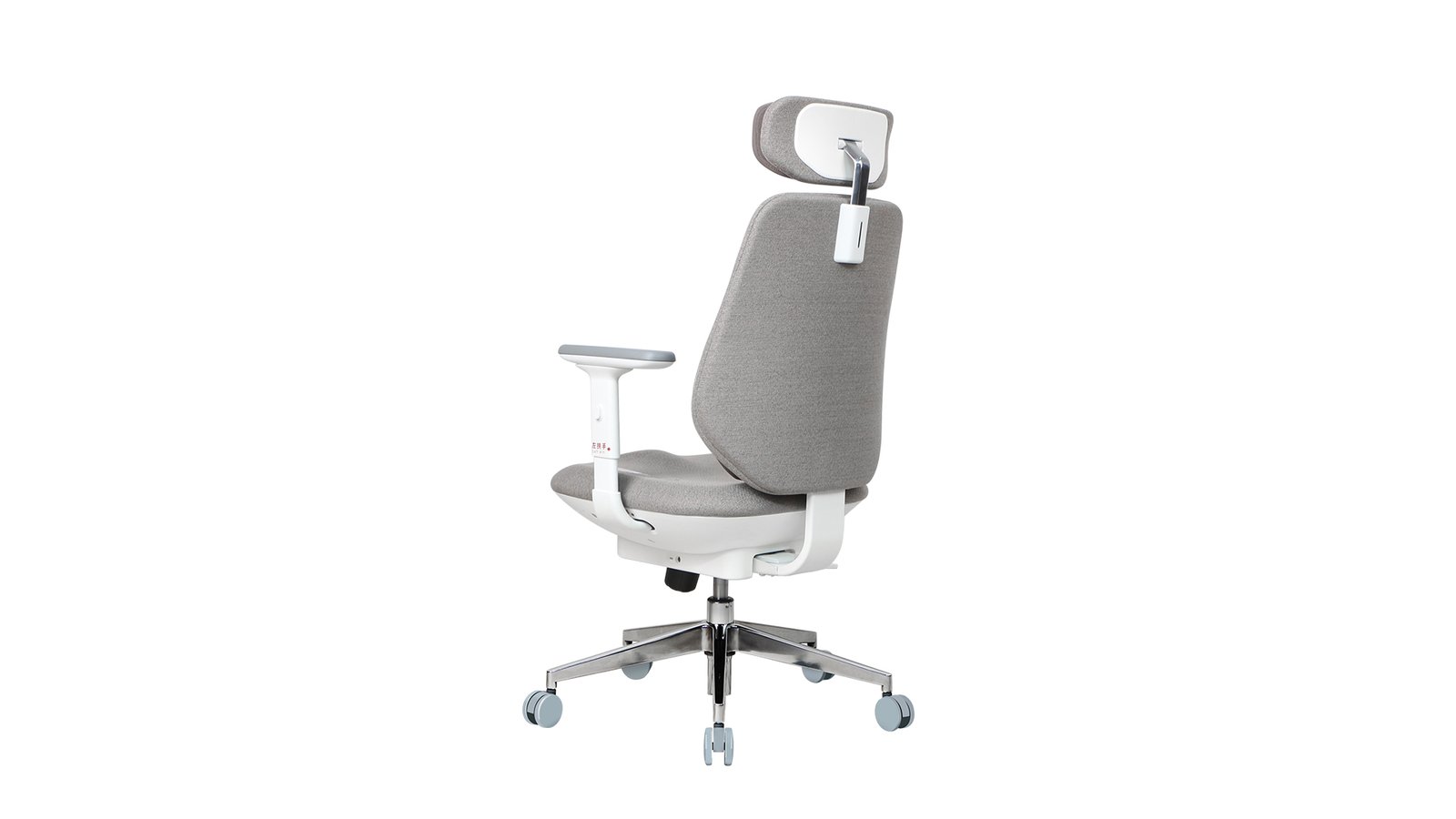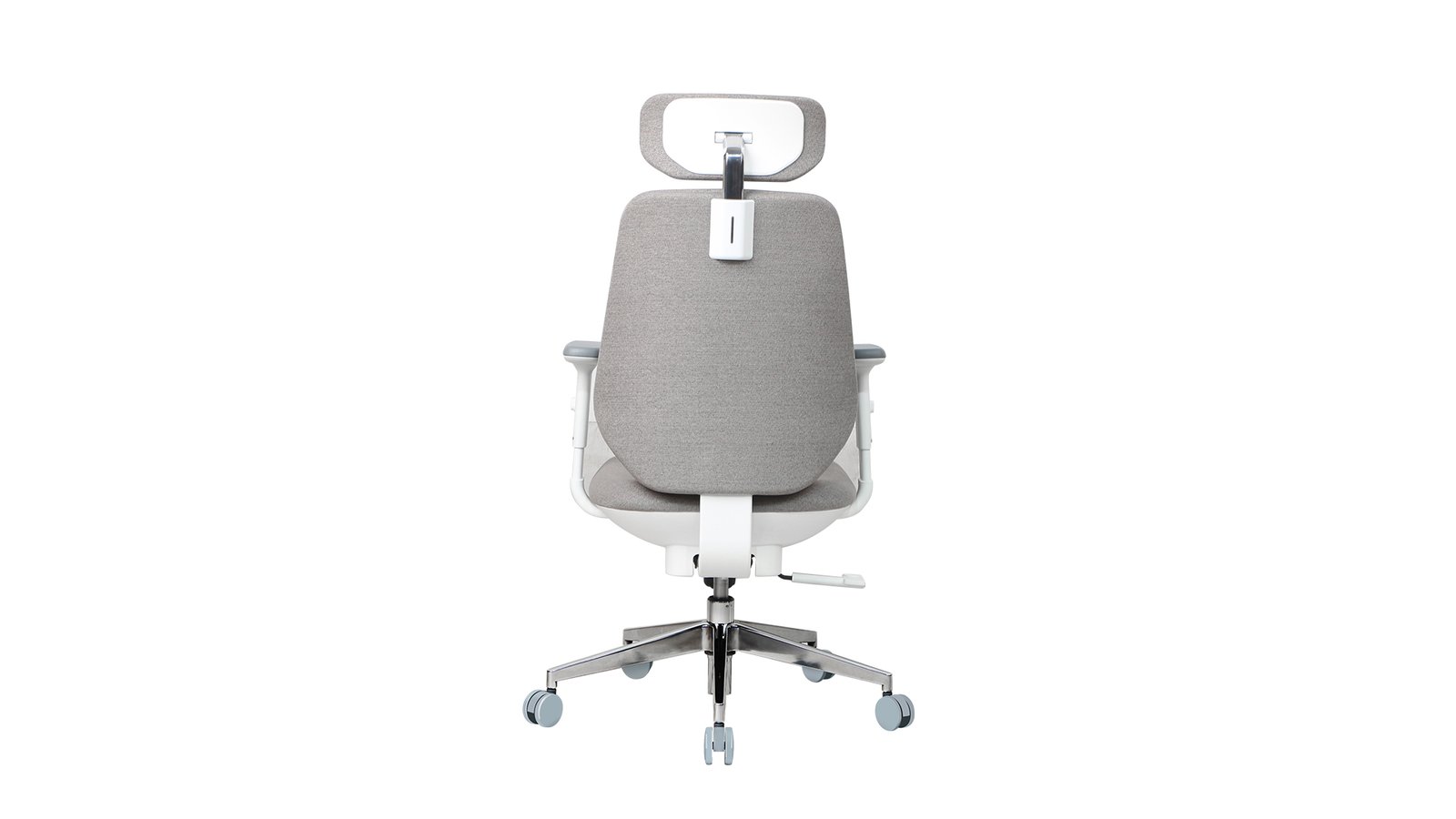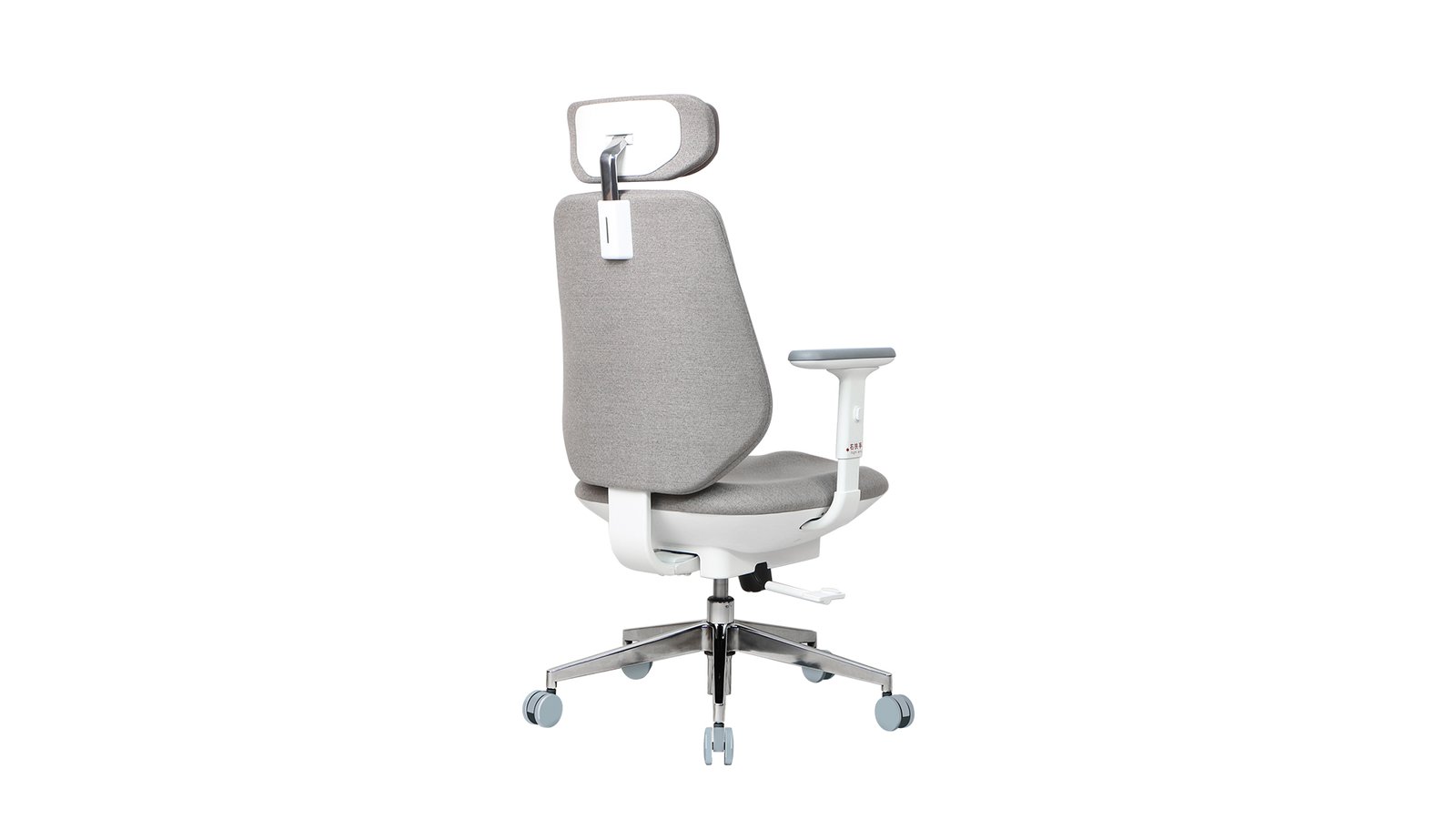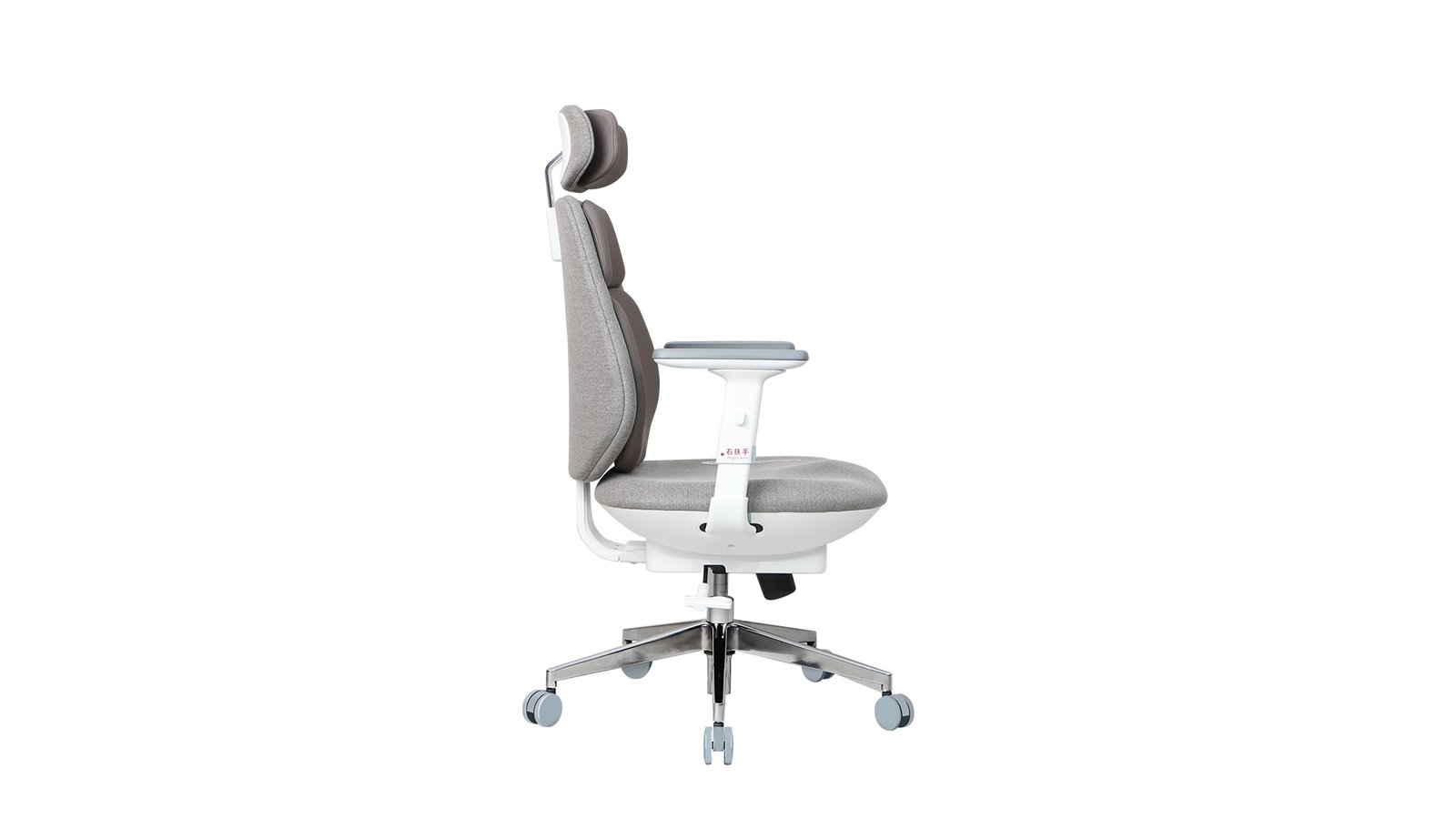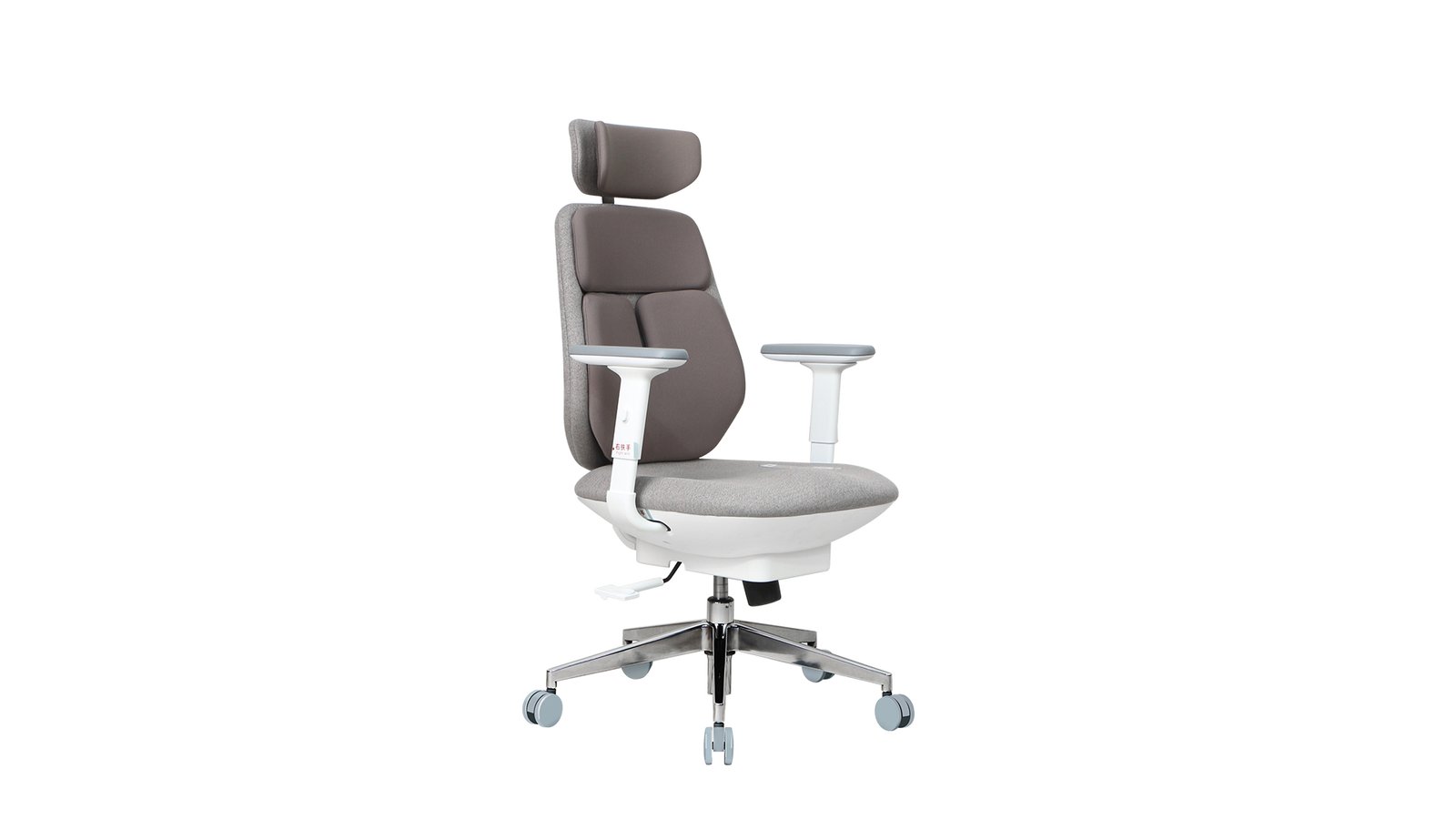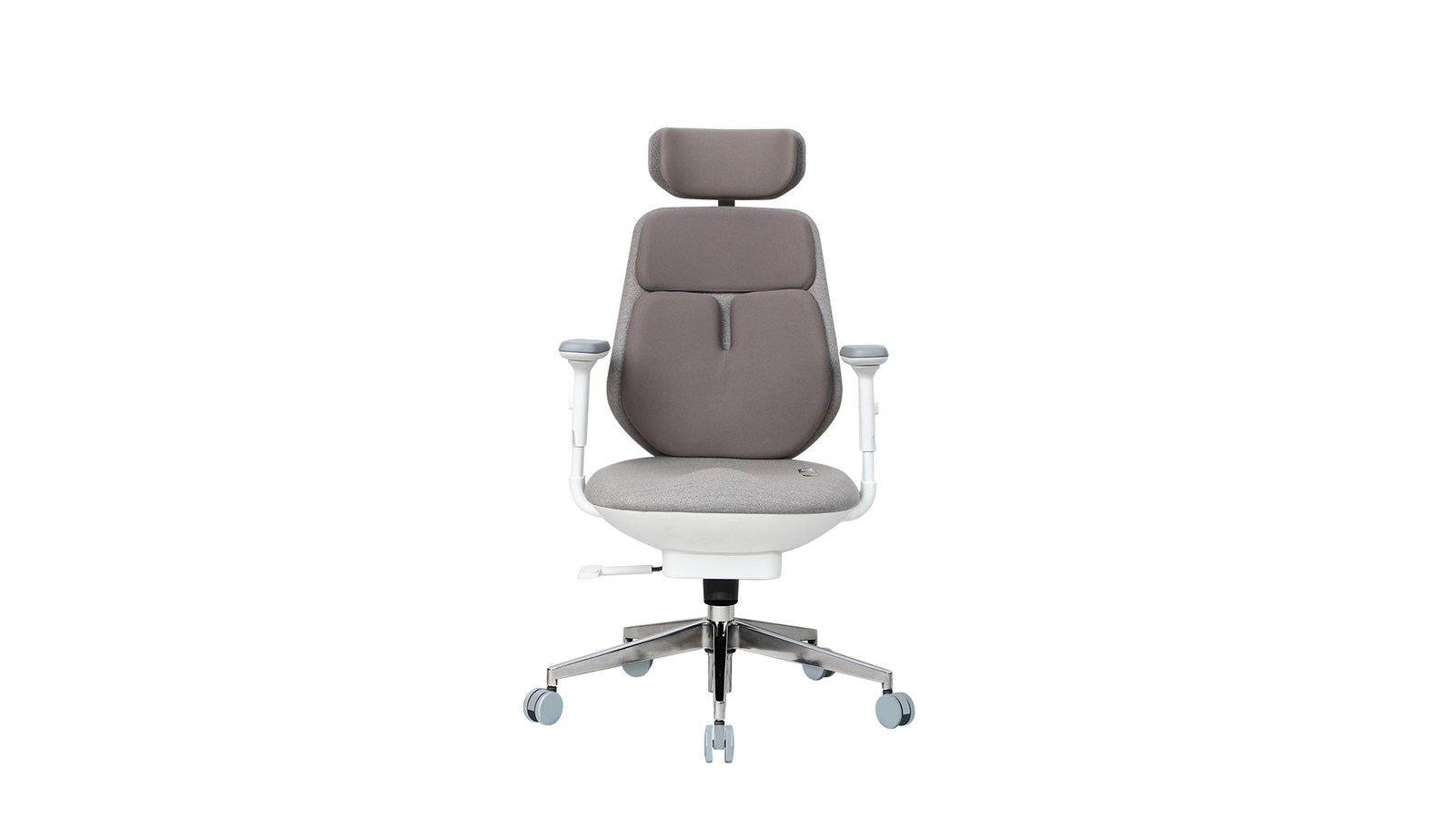 Airflow to follow lumbar support

Suitable for different people's posture

Sedentary Reminder function

AI Chip: Artificial Intelligence for seat adjustment

(Body-matching)

Zero pressure comfort

3D adjustable armrest

U shape headrest with free-side rotation

40 hours of super standby
The Platinum Edition, BC03Q is a high-performance ergonomic office chair with an innovative AI system designed to provide maximum comfort and real lumbar support. Has a hot compress function, to relax your muscles completely, speed up your blood circulation and release waist fatigue.
This chair includes an intelligent synch-adaptive system for long working sessions. It's made with a durable metal frame and features a high-density foam seat and backrest for added comfort, sourced from a well-known chemistry manufacturer, BASF.
The airly chair is a light luxury edition covered with soft premium PU leather, easy to clean, and resistant to wear and tear. It also features adjustable 3D armrests that can be moved up and down or rotated to provide optimal support for the arms and shoulders.
The BC03Q office chair also features a class-4 gas lift that allows for easy height adjustment, as well as a tilt mechanism that allows the user to adjust the angle of the backrest for maximum comfort
In addition to its comfort and functionality, the BC03Q also features a sleek, modern design that complements any working setup. It runs a body detection AI Chip and dynamic air that will flow through your lumbar area, and the waist system for free posture change. This means that the airbag will follow your body curve keeping away from spine injuries due to sedentarism.
We remember that according to a WHO survey, 70% of disease is related to human sedentariness which is gently said: "slow poison".
It's available in different colour options and, if you desire to customize it, according to your requirements or ideas, you can ask our sales team for the options available and a quotation.
The system is fully charged for up to 40 hours of constant work. A one-time charge for whole working days.
We have certified and developed partnership cooperation with different renowned companies. Those companies are the world's leading suppliers of high-quality raw materials for plastics, metals, chemicals and coatings. We can design, transform and employ our meticulous craftsmanship for each OEM/ODM project, and at the same time, ensure honest environmental protection.
Overall, this Backrobo AI office chair is a great choice for the ones who want an innovative comfortable system, supportive, and stylish chair that can help them stay focused and relaxed during even the most extended working sessions.
Smart origin, synchrony-adaptive lumbar deluxe airly chair
PLATINUM EDITION
Customized with Chip: 8 future seating technical features
ALSFS* Air lumbar support following system, which actively adapts to the lumbar curve.
Body-matching algorithm
Sedentary reminder
Smart APP support
Lumbar hot application
Safe magnetic charging
40 hours of super standby
Inspired space with 3 main colour options.
*Airly lumbar support the following system
*Data from Backrobo labs, actual use subject to different users.
Serious problem under sedentary behaviors.
According to WHO, 70% of the disease is related to sedentary lifestyle, which is called the "soft and slow poison".
Some consequences are: hypomnesia, fatigue, insomnia, neck stiffness, lumbar intervertebral injury, fat accumulation in the waist and belly, slow intestinal peristalsis.
Can traditional chairs really say goodbye to sedentary illnesses?
Sedentary office workers sit under many different postures over time, but traditional ergonomic chairs do not always adapt to different body shape curves, once the sitting posture is changed, the poor rist state for the body due to lack of lumbar support during sedentary situation will continue to exist.
Lumbar Protection Initiative
Dynamic care for the sedentary body under different person curves and sitting postures
Considering the current deficiency of traditional ergonomic chairs, the Airly chair applies innovative design with a dynamic airbag to break the barriers of traditional chair, with the experience of improving human sitting posture and health.
| TRADITIONAL OFFICE CHAIR | AIRLY OFFICE CHAIR (BC03Q) |
| --- | --- |
| The body passively follows or tries to adjust to the chair. | The chair fits the body positively |
| Fixed ergonomic curve | Flexible ergonomic curves |
| Manual adjustment | AI Automatic and manual adjustments |
| Static mechanical lumbar | Dynamic following lumbar support |
| No sedentary reminder | Sedentary reminder |
| No APP | Intelligent APP control |
| No hot application | Lumbar hot compress |
Break your imagination, enjoy the freedom
Escape from the earth's surface.
Experience floating sensations of the cosmos apart from gravity
Relax completely physically and mentally
Willfully, Breakthrough and Subversion
Red lava: Relieve the power of exploring the cosmos;
Glacier Blue: enjoy the breeze of the sea wind;
Meteorite grey: feel the mystery of foreign visitors;
DELUXE Airly Chair
Break the boundaries of the sitting experience.
Dynamic or static specially customized for you.
Dynamic and innovative ergonomic design

An airbag that follows and provides lumbar support;

Suitable for different postures of people;

Health reminder for a sedentary lifestyle;

AI Chip: Intelligent adjustment;

Zero pressure comfort;
Quality and safety report + SRRC Safety report
Dynamic airbag to positively protect the waistline
Supported with a body AI detection chip: No worries about posture changes.
600KG of load capacity and 10 years* Life span
It actively adjusts the waist according to the curve of the waist, keeping away from waist/back injuries due to a sedentary lifestyle.
Data collected from Backrobo labs, actual subject for different users.
Hot application to the waist brings warm care.
The hot compression function completely relaxes the waist muscle and accelerates blood circulation, releasing waist fatigue.
Suspend recline, release all fatigue
120° large recline nap mode with multiple gears.
Simulate zero space gravity as per body curves, fit the chair into body curves, and completely stress release on average.
Experience the feeling of "floating" at will. Reclining 90º to 120º, 3D adjustable armrest, seat height range 7cm.
U Shape headrest with free side rotation
Curved headrest with extended width and height design, rotation until 40º and strong metal bracket for comfortable napping adjustment.
Removable headrest cover for easy cleaning, up and down range of 4cm.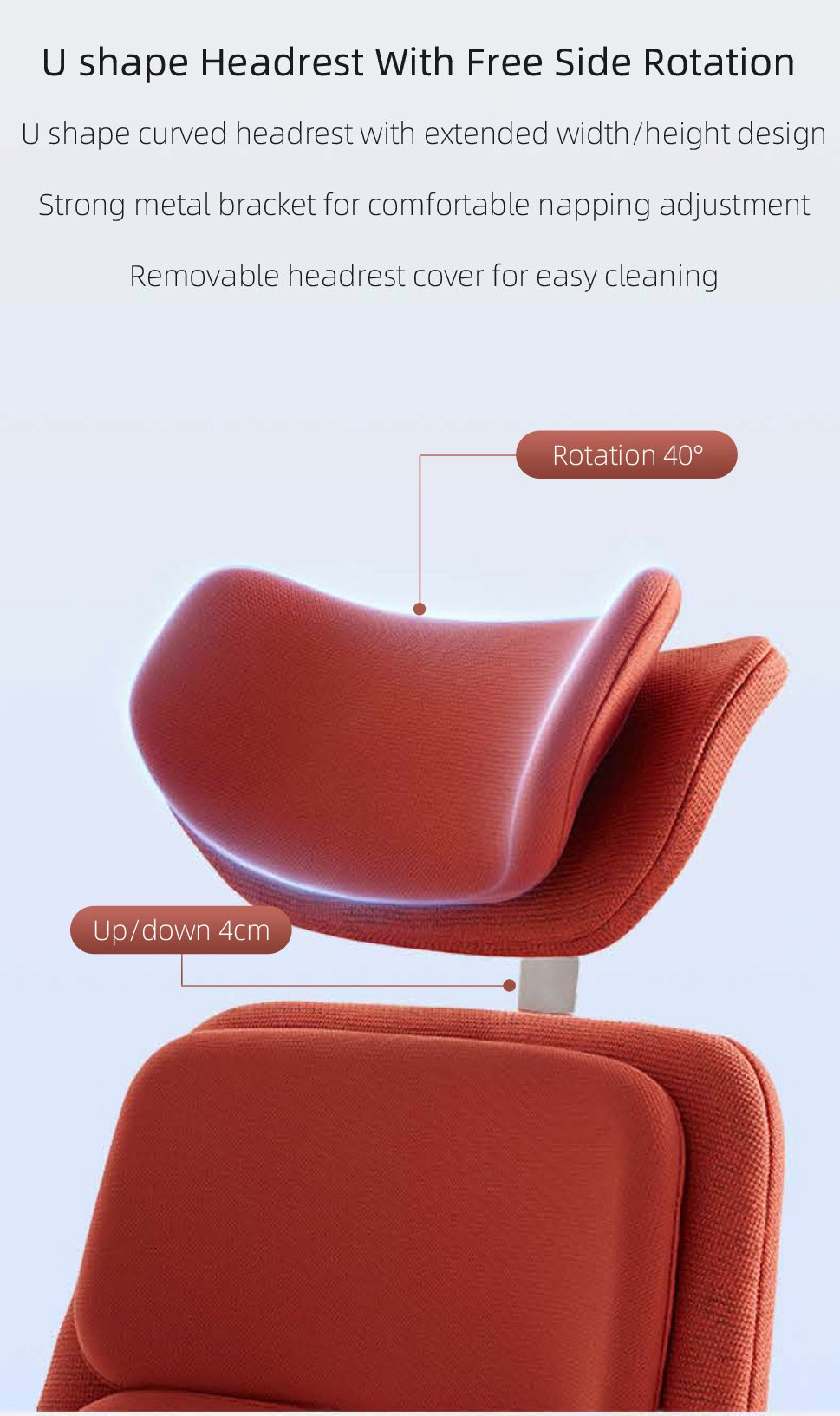 Inspired in 3 colour options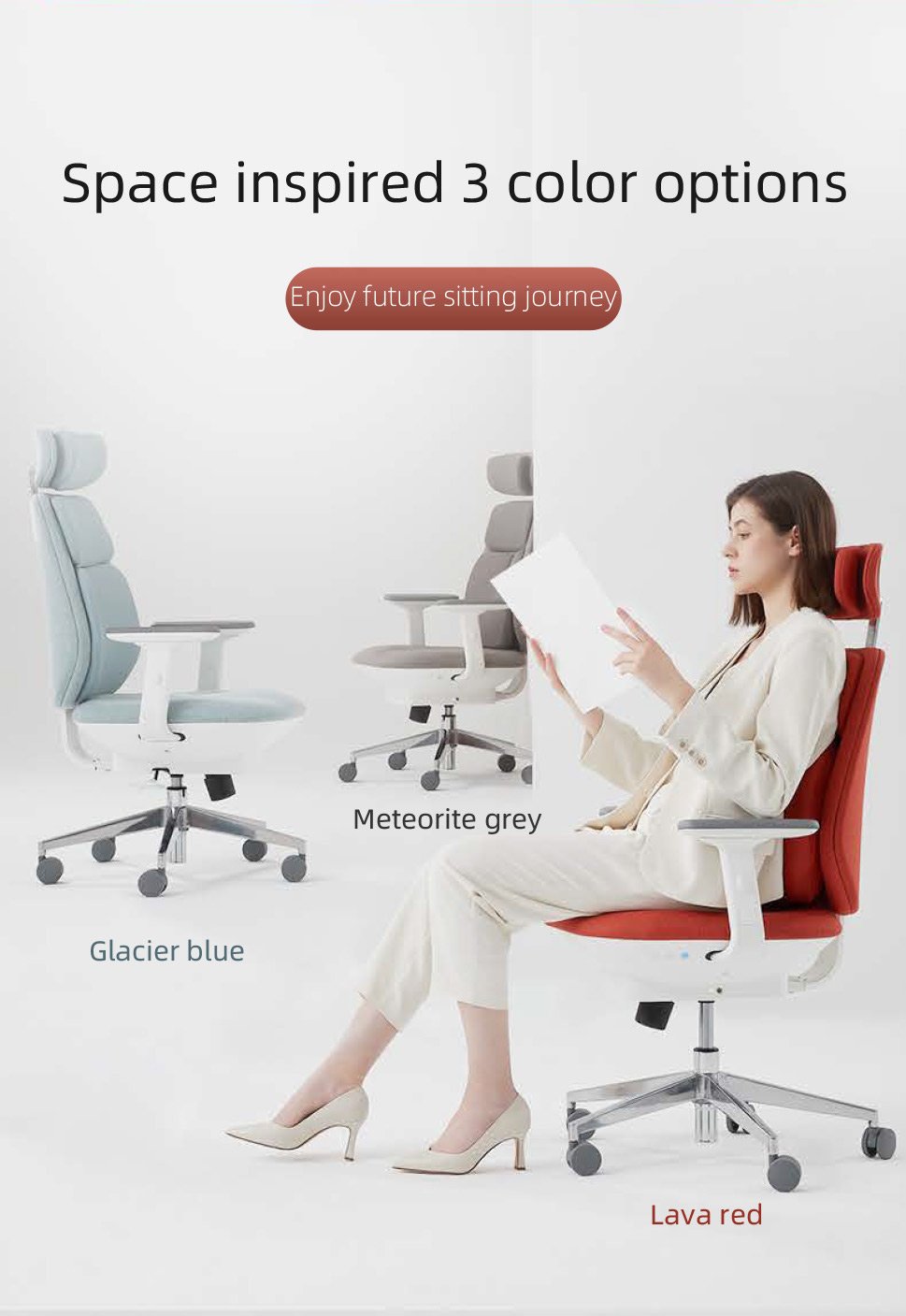 Thousands of tests for exceptional quality
Several years with in-house R&D that went through a lot of trial to test, runs and improve, day and night
136KG: Drop test
102KG: Backrest static strength test
More than 1000 times: Airbag durability
More than 2000 times: Fabric friction test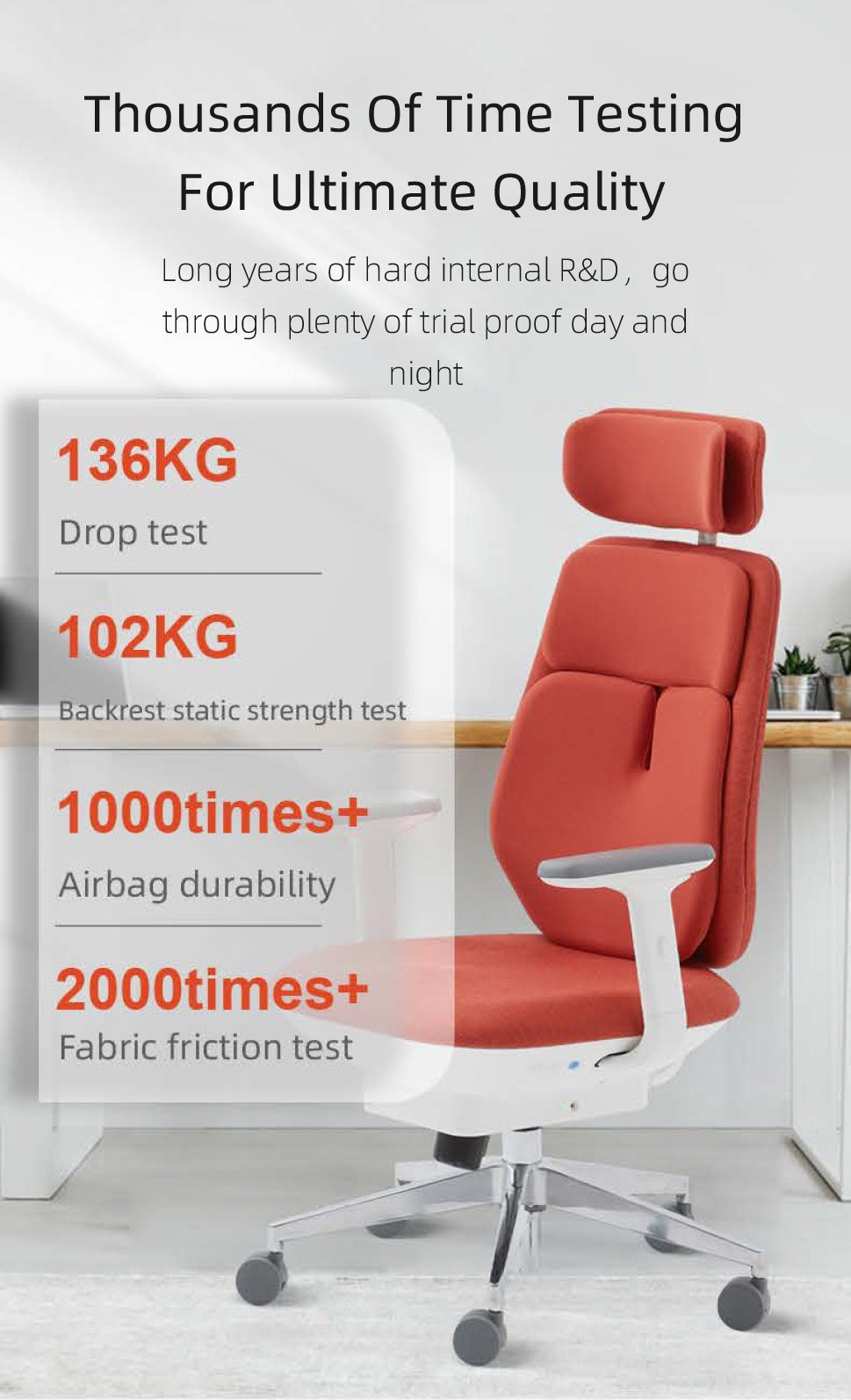 Create all the details with craftsmanship
Special elastic linen fabric: Breathable, light-resistant and soft skin touch, no padding;
Class 3 explosion-proof gaslift: TUV certified, safety guaranteed;
ADC12 Aluminum alloy: Durable, sturdy for heavy-duty fastening;
Noise-free caster: Quiet, anti-scracth, flexible movement;
Integrated Seat: Invisible wire management for exceptional appearance design;
High-density cold-cure foam: Fit curve design, softness, resilience, no deformation.

Parameters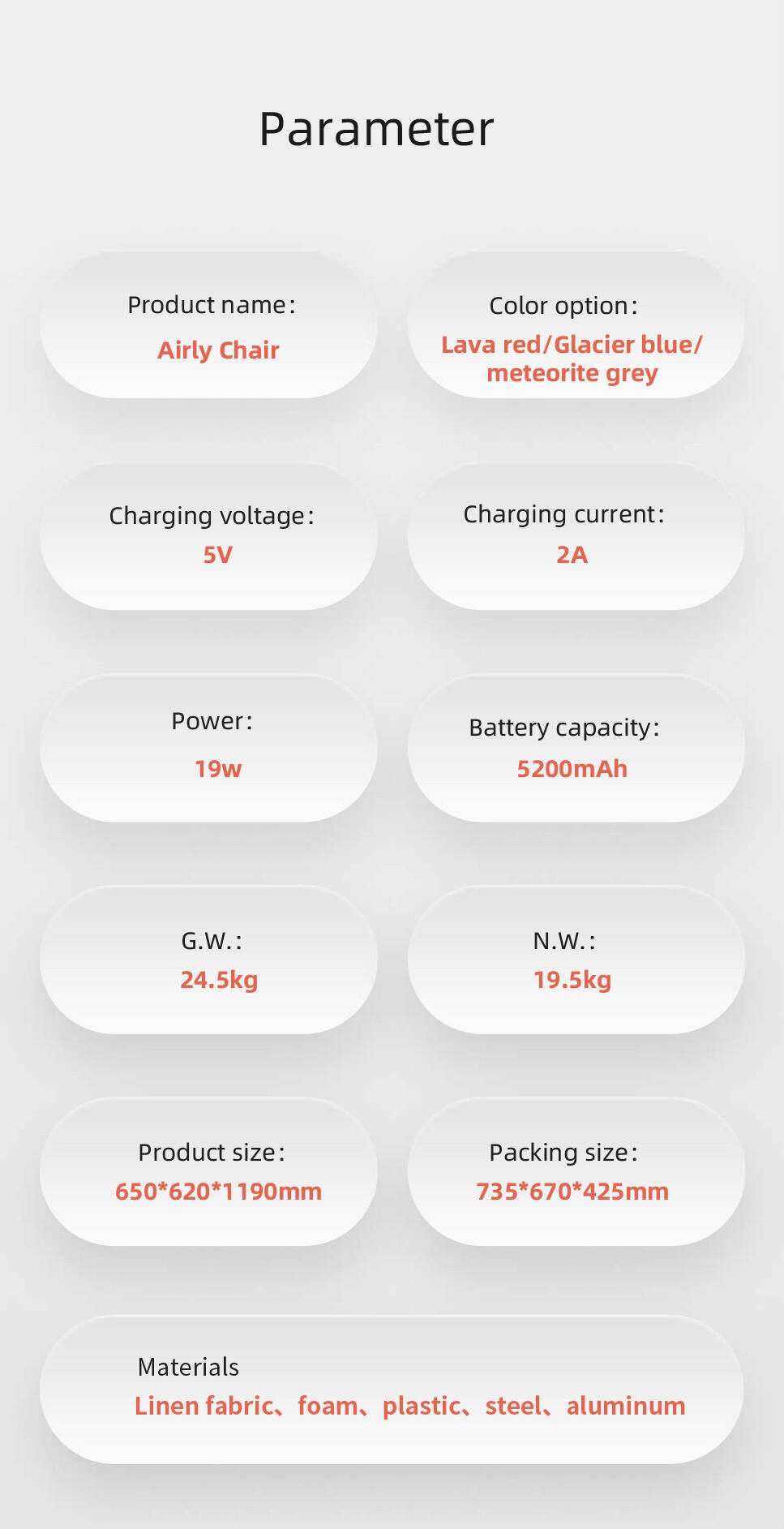 SPECIFICATIONS FOR OEM / ODM
| | |
| --- | --- |
| MODEL NUMBER | BC03Q |
| Year Launch | 2022 |
| Colours Available | Many colours (check with our sales team) |
| Head Rest Pillow? | We allow OEM ODM product customisation and technical modification for your brand. Contact our sales team. |
| Head Rest Adjustment? | We allow OEM ODM product customisation and technical modification for your brand. Contact our sales team. |
| Head Rest Height | We allow OEM ODM product customisation and technical modification for your brand. Contact our sales team. |
| Head Rest Width | We allow OEM ODM product customisation and technical modification for your brand. Contact our sales team. |
| Head Rest Thickness | We allow OEM ODM product customisation and technical modification for your brand. Contact our sales team. |
| Head Rest Height Adjustment | We allow OEM ODM product customisation and technical modification for your brand. Contact our sales team. |
| Head Adjustment Levels | We allow OEM ODM product customisation and technical modification for your brand. Contact our sales team. |
| Head Height Range | We allow OEM ODM product customisation and technical modification for your brand. Contact our sales team. |
| Head Rotation Adjustments | We allow OEM ODM product customisation and technical modification for your brand. Contact our sales team. |
| Head Surface Materials | We allow OEM ODM product customisation and technical modification for your brand. Contact our sales team. |
| Removable Headrest? | We allow OEM ODM product customisation and technical modification for your brand. Contact our sales team. |
| Backside Frame Materials | We allow OEM ODM product customisation and technical modification for your brand. Contact our sales team. |
| Backside Adjustment Levels | We allow OEM ODM product customisation and technical modification for your brand. Contact our sales team. |
| Backside Height Range | We allow OEM ODM product customisation and technical modification for your brand. Contact our sales team. |
| Backside Surface Materials | Linen |
| Backside Length | 645 mm |
| Backside Width | 456 mm |
| Backside Thickness | We allow OEM ODM product customisation and technical modification for your brand. Contact our sales team. |
| Backside Foam Type | Moulded foam |
| Backside Foam Density | 55 / 50 |
| Lumbar Height | We allow OEM ODM product customisation and technical modification for your brand. Contact our sales team. |
| Lumbar Width | We allow OEM ODM product customisation and technical modification for your brand. Contact our sales team. |
| Lumbar Thickness | We allow OEM ODM product customisation and technical modification for your brand. Contact our sales team. |
| Lumbar Pillow | Yes |
| Lumbar Foam Type | Moulded Foam |
| Lumbar Foam Density | 55/50 |
| Adjustable Lumbar Pillow? | Yes |
| Removable Lumbar Pillow | No |
| Seat Frame Materials | PA |
| Seat Surface Materials | Linen |
| Seat Foam Type | Moulded Foam |
| Seat Foam Density | 55/50 |
| Seat Height | 465 to 545 mm |
| Seat Width | 480 mm |
| Seat Depth | 519 mm |
| Seat Thickness | 46 mm |
| Pneumatic Gas Lift Cylinder (Class) | Class 4, SGS Certified |
| Pneumatic Gas Lift Cylinder Specifications | 80 mm |
| Tilt Angel Locker | Yes |
| Tilting range | 90 to 120 degrees |
| Floor to Seat base (mm) | We allow OEM ODM product customisation and technical modification for your brand. Contact our sales team. |
| Height Adjustment (mm) | 70 mm |
| Recline function? | yes |
| Recline Angle | 30 degrees |
| Mechanism | Butterfly (you can select) |
| Armrest type | 3D |
| Armrest Materials | PU |
| Armrest to Floor | 638 to 778 mm |
| Armrest Length | 263 mm |
| Armrest Width | Butterfly |
| Armrest Thickness | We allow OEM ODM product customisation and technical modification for your brand. Contact our sales team. |
| Armrest Height | We allow OEM ODM product customisation and technical modification for your brand. Contact our sales team. |
| Armrest to Seat | We allow OEM ODM product customisation and technical modification for your brand. Contact our sales team. |
| Base Diameter | 630 mm |
| Base Frame Coating | n/d |
| Base Frame Materials | Aluminium Alloy |
| Casters Diameter | Φ65 mm |
| Casters Materials | Nylon |
| Caster Light Function? | No. But we can apply |
| Caster Lock Function? | No. But we can apply |
| Caster Noise | Flexible and noiseless |
| Caster Quantity | 5 |
| RGB LED Light? | No. But we can build |
| Ventilation System? | No. But we can build |
| Massage System? | No. But we can build |
| Software APP? | We, But we can build |
| Warranty | whole chair 3 years warranty, electronic parts 1 year |
| Certifications | BIFMA, EN1335 |
| Maximum Load Static | 1136 |
| Maximus Load Dynamics | 136 |
| Chair Size (DxWxH) | 737 x 670 x 425 mm (around, depending on full setup) |
| NET Weight (KG) | 19.5 KG (around, depending on the full setup) |
| Gross Weight (KG) | 24.5 KG (around, depending on the full setup) |
| Packaging Size: Depth x Width x Height | Contact our sales team to know the detail of the packaging size. |
| Accessories: | User Manual |
N/D = "Not Defined";
Most of the options are customized and configurable.
You can configure and set it up in many ways, the values or descriptions will be different according to your requests
DOWNLOADS