Kids Children Ergonomic Gaming Chair U-AS0032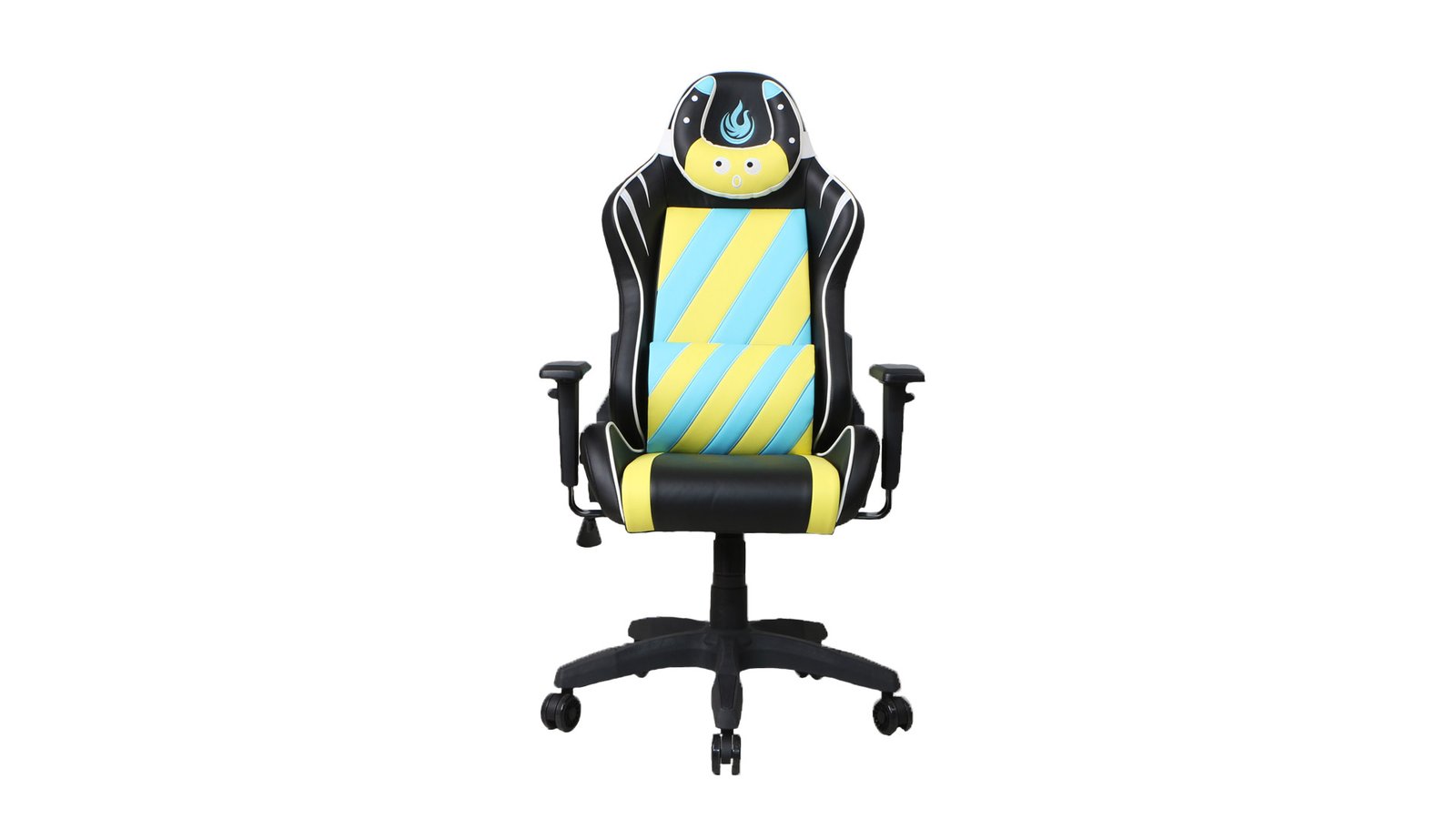 Here is an innovative Kid gaming chair size which we have adapted and designed for the youngest who is max. 150 cm tall. This is a KIDS SIZE CHAIR version that provides individual comfort to the little ones. If you are looking for ergonomic solutions suited to the figure for kids, be sure to get to know about our latest B2B models. We have combined reliable technical innovations with dynamic styling. Now the kids can enjoy unique comfort in different version styles that will give their room an unusual gaming feeling.
Discover our ergonomic technical solutions and see that an excellent choice for kids' health and safety.
RELIABLE FILLING
Many years of comfort
E-learning, doing homework or having fun in front of the computer screen is very comfortable now. We have lined the entire upholstery with the maximum amount of soft HR foam. even after many years of use will remain soft and free from dents or deformations. It will always provide your child with the highest comfort.
MODERN SPINE SUPPORT
Ergonomic headrest
Proper position at the desk while playing, studying or doing homework is a guarantee of a healthy back. We took care of your child's silhouette and equipped the desk chair with an adjustable headrest. It actively supports the cervical spine in maintaining a safe position and prevents the head from tilting into an incorrect position. Thanks to the comfortable headrest filled with soft HR foam, your little one will avoid obtaining a harmful position.
Lumbar pillow
Your kid's lower spine will be supported by an innovative lumbar pillow at each backrest with which the back will automatically assume a safe position. The shape, adjustable height and soft HR foam filling make the lower part of the child's spine perfectly protected against the formation or worsening of posture defects. The sitting position is natural and comfortable.
RELIABLE ADJUSTMENT
Armtech ™ Vertical SoftTouch armrests
Modern armrests with reliable up-down adjustment are especially important for providing safety to your child's body. Support for the shoulders, forearms and wrists stabilizes the entire position and facilitates a safe and comfortable posture. The upper of the armrests is filled with foam, which makes it extremely soft and provides comfortable support for the forearms.
Tilttech system ™ Butterfly
The modern height adjustment system will make it easy to adjust the seat height to the kid's height and the level of the desk. This will not only provide him with comfort but also make it easier for the body to adjust to the position determined by the lumbar pillow and headrest. The backrest can be folded up to 140 ° and locked at any point, as the Tilttech ™ Swing safety function provides your child with much fun
SAFETY FIRST
Reinforced construction
With a reinforced structure and a solid, five-pointed base, the desk chair will ensure your kid with a completely safe and stable position even during intense movement or rocking. The reliable 4th class lift provides excellent cushioning thanks to the built-in Air Damper ™ System. Modern PFC ™ 360 65 mm casters are equipped with rims. Their rubber cover makes the floor surface in a kid's room effectively protected against scratches.
Reliable quality, durability and a guarantee of many years of comfort and safety are provided by the BIFMA durability certificate. Thanks to it you can be sure that meets the highest standards of manufacturing.
Using the experience of specialists we have created a desk chair that will actively protect the body of the youngest and provide them with comfort and security. However, we know that children's rooms reflect the individual characters of the little ones. That is why the model has been designed to diversify the interior with a unique gaming character.
TOP-QUALITY UPHOLSTERY
Innovative 4th generation HDS ™ PU leatherette
With the model, many years of comfort and ergonomics are waiting for your child. We took care of practical solutions that are particularly important in products intended for children. The IV generation HDS ™ leatherette upholstery is a reliable, easy-to-clean material that will surprise you with its exceptional abrasion resistance. Thanks to the stitching with strong threads, the leatherette is properly stretched ensuring its perfect look for many years.
DYNAMIC AND EXPRESSIVE
The Power of OneVision™ Design
The combination of deep black and expressive white will diversify the interior of any kid's room. The bucket structure and expressive emblems decorating the grilles and upholstery will make each room take on a unique individual character. The sporty dynamic silhouette will make your kid delight at the first sight of his new gaming chair.
Bet on an original combination of technical innovations and unusual design in the style. Trust our experience and choose a children's chair that will provide your child with comfort, safety and a huge dose of emotions.
| MODEL NUMBER | U-AS0032 |
| --- | --- |
| Year Launch | 2023 |
| Colours Available | We allow OEM ODM product customisation and technical modification for your brand. Contact our sales team. |
| Head Rest? | Yes |
| Head Rest Adjustment? | Yes |
| Head Rest Height | We allow OEM ODM product customisation and technical modification for your brand. Contact our sales team. |
| Head Rest Width | We allow OEM ODM product customisation and technical modification for your brand. Contact our sales team. |
| Head Rest Thickness | We allow OEM ODM product customisation and technical modification for your brand. Contact our sales team. |
| Head Rest Height Adjustment | We allow OEM ODM product customisation and technical modification for your brand. Contact our sales team. |
| Head Adjustment Levels | We allow OEM ODM product customisation and technical modification for your brand. Contact our sales team. |
| Head Height Range | We allow OEM ODM product customisation and technical modification for your brand. Contact our sales team. |
| Head Rotation Adjustments | We allow OEM ODM product customisation and technical modification for your brand. Contact our sales team. |
| Head Surface Materials | We allow OEM ODM product customisation and technical modification for your brand. Contact our sales team. |
| Removable Head Rest | We allow OEM ODM product customisation and technical modification for your brand. Contact our sales team. |
| Backside Frame Materials | We allow OEM ODM product customisation and technical modification for your brand. Contact our sales team. |
| Backside Adjustment Levels | We allow OEM ODM product customisation and technical modification for your brand. Contact our sales team. |
| Backside Height Range | We allow OEM ODM product customisation and technical modification for your brand. Contact our sales team. |
| Backside Surface Materials | We allow OEM ODM product customisation and technical modification for your brand. Contact our sales team. |
| Backside Length | We allow OEM ODM product customisation and technical modification for your brand. Contact our sales team. |
| Backside Width | We allow OEM ODM product customisation and technical modification for your brand. Contact our sales team. |
| Backside Thickness | We allow OEM ODM product customisation and technical modification for your brand. Contact our sales team. |
| Backside Foam Type | We allow OEM ODM product customisation and technical modification for your brand. Contact our sales team. |
| Backside Foam Density | We allow OEM ODM product customisation and technical modification for your brand. Contact our sales team. |
| Lumbar Height | We allow OEM ODM product customisation and technical modification for your brand. Contact our sales team. |
| Lumbar Width | We allow OEM ODM product customisation and technical modification for your brand. Contact our sales team. |
| Lumbar Thickness | We allow OEM ODM product customisation and technical modification for your brand. Contact our sales team. |
| Lumbar Pillow | We allow OEM ODM product customisation and technical modification for your brand. Contact our sales team. |
| Lumbar Foam Type | We allow OEM ODM product customisation and technical modification for your brand. Contact our sales team. |
| Lumbar Foam Density | We allow OEM ODM product customisation and technical modification for your brand. Contact our sales team. |
| Adjustable Lumbar Pillow | We allow OEM ODM product customisation and technical modification for your brand. Contact our sales team. |
| Removable Lumbar Pillow | We allow OEM ODM product customisation and technical modification for your brand. Contact our sales team. |
| Seat Frame Materials | We allow OEM ODM product customisation and technical modification for your brand. Contact our sales team. |
| Seat Surface Materials | We allow OEM ODM product customisation and technical modification for your brand. Contact our sales team. |
| Seat Foam Type | We allow OEM ODM product customisation and technical modification for your brand. Contact our sales team. |
| Seat Foam Density | We allow OEM ODM product customisation and technical modification for your brand. Contact our sales team. |
| Seat Height | We allow OEM ODM product customisation and technical modification for your brand. Contact our sales team. |
| Seat Width | We allow OEM ODM product customisation and technical modification for your brand. Contact our sales team. |
| Seat Depth | We allow OEM ODM product customisation and technical modification for your brand. Contact our sales team. |
| Seat Thickness | We allow OEM ODM product customisation and technical modification for your brand. Contact our sales team. |
| Pneumatic Gas Lift Cylinder (Class) | Class 4, SGS certified |
| Pneumatic Gas Lift Cylinder Specifications | We allow OEM ODM product customisation and technical modification for your brand. Contact our sales team. |
| Tilt Angel Locker | We allow OEM ODM product customisation and technical modification for your brand. Contact our sales team. |
| Tilting range | We allow OEM ODM product customisation and technical modification for your brand. Contact our sales team. |
| Floor to Seat base (mm) | We allow OEM ODM product customisation and technical modification for your brand. Contact our sales team. |
| Height Adjustment (mm) | We allow OEM ODM product customisation and technical modification for your brand. Contact our sales team. |
| Recline function? | Yes |
| Recline Angle | We allow OEM ODM product customisation and technical modification for your brand. Contact our sales team. |
| Mechanism | We allow OEM ODM product customisation and technical modification for your brand. Contact our sales team. |
| Armrest type | We allow OEM ODM product customisation and technical modification for your brand. Contact our sales team. |
| Armrest Materials | We allow OEM ODM product customisation and technical modification for your brand. Contact our sales team. |
| Armrest to Floor | We allow OEM ODM product customisation and technical modification for your brand. Contact our sales team. |
| Armrest Length | We allow OEM ODM product customisation and technical modification for your brand. Contact our sales team. |
| Armrest Width | We allow OEM ODM product customisation and technical modification for your brand. Contact our sales team. |
| Armrest Thickness | We allow OEM ODM product customisation and technical modification for your brand. Contact our sales team. |
| Armrest Height | We allow OEM ODM product customisation and technical modification for your brand. Contact our sales team. |
| Armrest to Seat | We allow OEM ODM product customisation and technical modification for your brand. Contact our sales team. |
| Base Diameter | We allow OEM ODM product customisation and technical modification for your brand. Contact our sales team. |
| Base Frame Coating | We allow OEM ODM product customisation and technical modification for your brand. Contact our sales team. |
| Base Frame Materials | We allow OEM ODM product customisation and technical modification for your brand. Contact our sales team. |
| Casters Diameter | We allow OEM ODM product customisation and technical modification for your brand. Contact our sales team. |
| Casters Materials | We allow OEM ODM product customisation and technical modification for your brand. Contact our sales team. |
| Caster Light Function? | We allow OEM ODM product customisation and technical modification for your brand. Contact our sales team. |
| Caster Lock Function? | We allow OEM ODM product customisation and technical modification for your brand. Contact our sales team. |
| Caster Noise | We allow OEM ODM product customisation and technical modification for your brand. Contact our sales team. |
| Caster Quantity | 5 |
| RGB LED Light? | We allow OEM ODM product customisation and technical modification for your brand. Contact our sales team. |
| Ventilation System? | We allow OEM ODM product customisation and technical modification for your brand. Contact our sales team. |
| Massage System? | We allow OEM ODM product customisation and technical modification for your brand. Contact our sales team. |
| Software APP? | We allow OEM ODM product customisation and technical modification for your brand. Contact our sales team. |
| Warranty | Yes |
| Certifications | We allow OEM ODM product customisation and technical modification for your brand. Contact our sales team. |
| Maximum Load Static | We allow OEM ODM product customisation and technical modification for your brand. Contact our sales team. |
| Maximus Load Dynamics | We allow OEM ODM product customisation and technical modification for your brand. Contact our sales team. |
| Chair Size (DxWxH) | We allow OEM ODM product customisation and technical modification for your brand. Contact our sales team. |
| NET Weight (KG) | We allow OEM ODM product customisation and technical modification for your brand. Contact our sales team. |
| Gross Weight (KG) | We allow OEM ODM product customisation and technical modification for your brand. Contact our sales team. |
| Packaging Size: Depth x Width x Height | We allow OEM ODM product customisation and technical modification for your brand. Contact our sales team. |
| Accessories | User Manual |
N/D = "Not Defined";
Most of the options are customized and configurable.
You can configure and set it up in many ways, the values or descriptions will be different according to your requests
DOWNLOADS